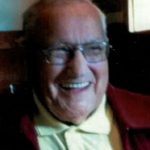 Robert E. Missimer, 88, of Allentown died on February 5, 2017 in his home. His beloved wife Anna (Kleinsorge) Missimer, died in 2005.
Born in Allentown, he was the son of the late Harold and Mabel (Smith) Missimer.
Robert was a lithographer with National Advertisement for over 35 years and retired in 1996. He was a past treasurer for Mountainville Fire Company. He was a Sergeant in the Marine Corps and served in Korea.
Survivors: Son Robert A. Missimer and his wife Cherri of Allentown; Daughters Virginia Stauffer and her husband David of Harleysville, Mary Haas and her husband Vernon of Allentown, JoAnne Strini and her husband Don of Northampton and Barbara Evans and her husband Steven of Phoenix, AZ; Grandchildren Kyle and Brenna Missimer, Josh and Sarah Stauffer, Amanda and Christopher Haas, Jack and Adam Strini and Anna and Nathan Evans; great grandchildren Ava and Alivia Wetzel; Predeceased by brothers Samuel and Jack and sister Dorothy.
Services: Private. Arrangements by the Sell-Herron Funeral Home 1145 Lehigh Street Allentown.
Contributions: American Heart Association or to the charity of your choice.