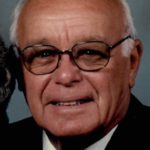 Robert J. Trumbauer, 87, of Allentown died on February 15, 2017. Husband of Lorraine E. (Horvath) Trumbauer they were married on February 16, 1952 and would have been married for 65 Years.
Robert was born in Allentown on October 31, 1929, son of the late Joseph and Dorothy (Hammersly) Trumbauer.
He graduated from Allentown High School in 1947 and served in the Army National Guard for 10 years.
He was mechanic at Mack Trucks for 30 years retiring in 1986.
Robert was an avid camper, loved to travel in his RV and was a stained glass artist. He befriended everyone, loved tinkering and building things, including his own house.
Survivors: His wife Lorraine, their daughters Donna Woehlke wife of Richard of Sutton, MA and Robin Gunkel wife of Thomas of North Whitehall Twp; brother Joseph Trumbauer, Jr. husband of Betty of Hudson, FL; five grandchildren Benjamin, Julia, Mark, Jennifer and Samantha; three great-grandchildren Bethany, Erin and Benjamin. Predeceased by his sisters Joan Stein and Barbara Jacobs.
Service: Memorial Service on Saturday February 18, 2017 at 2:30PM, with a calling hour from 1:30PM to 2:30 PM in the Sell-Herron Funeral Home, 1145 Lehigh Street, Allentown.
Contributions: In lieu of flowers the family would appreciate contributions to a charity of your choice.