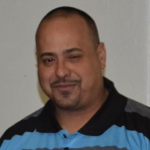 Roberto Sanchez, Jr., 47, of Allentown, passed away on Sunday, September 3, 2017 at home. He was the son of Roberto Sanchez and the late Julia Marie Stackhouse.
Survivors:  Son Roberto Feliz Sanchez; daughter Luz Sanchez; fiancé Lisa Trapp and their son Jordan I. Sanchez and daughters Alexis M. Sanchez, Julia M. Sanchez and Mariah I. Sanchez; brother Angel L. Aponte, sister Juana Reyes; father Roberto Sanchez and grandson Isaiah A. Ortiz.
Services:  Viewing Saturday, September 9th from 10AM-12PM at Sell-Herron Funeral Home, 1145 Lehigh Street, Allentown.
Contributions: To the family c/o the funeral home.