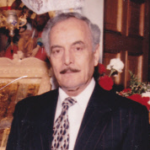 Sotirios "Steve" Fokas, 90 of Bethlehem Twp. died on January 3, 2017 at Manor Care in Easton, surrounded by his family. The husband of Joann S. (Gatanis) Fokas, they would have been married 63 years on January 10th.
Sotirios was born in Chios, Greece on August 8, 1926, son of the late Dimosthenis and Kalliope (Bois) Fokas.
He was a cook in various restaurants until he retired.
He was a member of Annunciation Greek Orthodox Church in Easton.
Survivors: His wife Joann, son Demos S. Fokas husband of Pam of Bethlehem, daughter Kelly M. Fenu of Bethlehem, six grandchildren and a brother Yianni Fokas of Chios, Greece.
Service: Funeral Service on Saturday, January 7, 2017 at 12 noon in the Annunciation Greek Orthodox Church 20th and Hay Terrace, Easton, PA 18042. Viewing on Friday from 7PM to 9PM and Saturday from 11AM to 12 noon in the Church. Funeral arrangements are by the John F. Herron Funeral Home in Bethlehem.
Contributions: In his memory to the Church.