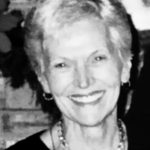 Stephanie "Stella" Hutta, 83, passed away on April 1, 2017 at home in Bethlehem, surrounded by her loving family. Stephanie and her husband Paul celebrated their 60th wedding anniversary in November.
Born in Lansford, Stephanie was the daughter of the late Amelia and Michael Pollack. She attended Fordham School of Nursing and worked as an R.N. at Coaldale Hospital, Muhlenberg and Miller Blood Center. A Master Gardener, Stephanie volunteered for many years with at-risk youth at a local community garden.
A beloved "Gram," avid traveler, gifted designer, voracious reader and loyal Phillies fan, Stephanie will be dearly missed by all who knew and loved her. Her humor, strength, compassion and generosity touched friends, family, strangers (and a long line of lucky pets) in countless ways. We're all better for having known her.
Survivors: She is survived by her husband Paul and her children Karen, Emily, Jane, Adrienne and Paul (predeceased by their beloved sister Mary Beth); spouses John Hennessy, Michael Carmody, Michael McNally and Deborah Hutta; and grandchildren Arielle, Alise, Sean, Megan, Katherine, Tucker, Daniel, Talyn and Sydney. Stephanie was predeceased by her siblings Mike, Mary, John, Josephine and Joe.
Services: A celebration of life will be held at a future date, to be announced. Funereal arrangements are by the John F. Herron Funeral Home in Bethlehem.
Contributions: In lieu of flowers, please consider making a donation in Stephanie's memory to your favorite charity.