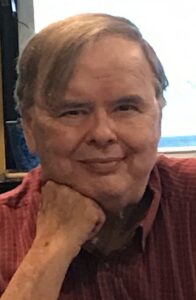 Thomas C. Kilker, 74 of Bethlehem passed away on October 25, 2022 at the Hospice House of St. Luke's in Bethlehem.  He was the husband of Mary  (Donaghue) Kilker for 33 years until her passing on February 5, 2017.  Thom was born in Danville, PA on July 21, 1948, son of the late Cletus  and Mary  (Canfield) Kilker of Girardville, PA.
He graduated from Immaculate Heart High School in 1966, did his undergraduate at Allentown College  and received his Masters from Lehigh University.
Thom taught Math at Saucon Valley high School from 1970 to 2004.  He was also the scorekeeper for wrestling matches and basketball games.  Thom enjoyed playing the New York Times and Morning Call crossword puzzles , word games (Wordle, Quordle, Octordle and Nerdle) and cribbage.  He also loved going to the movies with Mary. For many years he researched and created a family genealogy site with many photos.  Thom was also the favorite uncle of his many nieces and nephews.
He was a member of St. Anne's Catholic Church in Bethlehem.
Survivors: Four brothers Cletus  Kilker husband of Kathleen of Bethlehem, PA, James  Kilker husband of Laura of Girardville, PA,  Gerald  Kilker husband of Barbara of Barnesville, PA, Patrick  Kilker of Redondo Beach,CA, ,brother-in-law Bud Truhe of Torrence,CA, many nieces and nephews.  Predeceased by a sister  Roberta "Bobbye Ann  Kilker Truhe.
Mass of Christian Burial:  Saturday October 29, 2022 at 10AM at St. Anne's Catholic Church 450 West Washington Avenue Bethlehem, PA  18018.   A Celebration of Thom and Mary's life will take place at a later date.   Funeral arrangements by the Herron Funeral Home Bethlehem. www.Herronfuneralhomes.com
Contributions:  In lieu of flowers to Bethlehem Emergency Sheltering c/o Bob Rapp, Executive Director
Christ UCC Church   75 E Market Street   Bethlehem, PA 18018 http://bethlehememergencysheltering.org/donate/