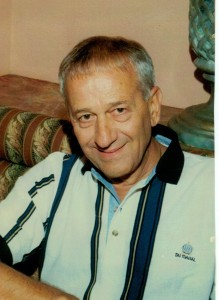 Thomas V. Moukoulis, 80 of Bethlehem died on Monday February 8, 2016 at St. Luke's Hospital in Fountain Hill. Husband of Mary (Pitsilos) Moukoulis, they were married 49 years on November 20th.
Tom was born on August 24, 1935 in Tyrnavos, Greece, son of the late Vasilios and Anastasia (Spellas) Moukoulis.
He graduated from Purdue University in 1958 with a degree in Mechanical Engineering.
Tom served in the US Army as an MP in Frankfurt Germany.
He owned Tom's Den on Airport Road in Allentown for 21 years retiring in 1997. Earlier he was an Engineering Manager at Cooper Industries in Easton for 10 years.
Tom was a member of St. Nicholas Greek Orthodox Cathedral in Bethlehem. He served on the Church Council for 40 years, four times a President and was active with Senior Citizens of the Church. Tom was a member of the Order of AHEPA, served on the Board of The Goodfellows where he was named an honorary member.
Survivors: His wife Mary, their son William T. Moukoulis, his wife Irene of Bethlehem, two grandchildren Barbara J. and Peter C. Moukoulis; sister Mary Horvath of Phoenixville; brother George Moukoulis, husband of Dorothy of Pottstown, sister in law Mary Moukoulis (wife of the late Nicholas Moukoulis) of Phoenixville; many nieces and nephews. Tom was predeceased by another brother, Gus Moukoulis.
Service: Funeral Service on Friday February 12, 2016 at 11 AM in St. Nicholas Greek Orthodox Cathedral 1607 West Union Blvd. Bethlehem.   There will be a viewing on Thursday from 6 to 8PM and Friday 10AM to 11 AM in the Cathedral.
Funeral arrangements are by the John F. Herron Funeral Home 458 Center At Market Street in Bethlehem.
Contributions: In lieu of flowers contributions in Tom's memory may be made to the St. Nicholas Cathedral Senior Citizens in care of the Funeral Home.