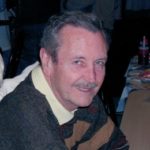 Thomas W. Murphy, 79 of Allentown died on January 5, 2017 at St. Luke's Hospice House in Bethlehem.
Thomas was a US Army Veteran and a member of the Fraternal Order of Eagles & APA. He was 1st place team Eagles State Pool tournament in 1980 and placed 2nd in the Las Vegas United States Pool tournament in 1997. No team has come close to beating the record since then. Thomas also loved handicapping race horses.
He worked at Mack Trucks, Mayo Motors, Outten Chevrolet, Bennet Chevrolet and AARP Day Care Center.
Survivors: His wife Betty of 37 years. Sister Pat and Don Ludwig of Wescosville. Brother Bob Murphy of Pittsburg. Three daughters Jo-Ann Goeppert, Janet Brett, Jamie Dorney and Son Carl Murphy. He loved his 4 grandchildren, Nicole Goeppert, Samantha and RileyAnn Brett, Kasey Dorney.
Service: Private. "Remember me as you knew me. I am good with God." Arrangements by Sell-Herron Funeral Home, Allentown.