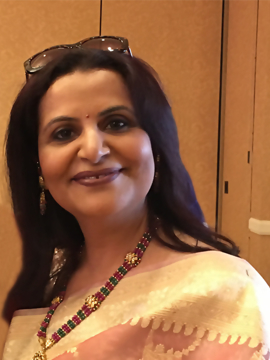 Vandana Puri (age 48) of Macungie passed away at her home on November 12, 2020, surrounded by her loving family.  Vandana was the wife of Rohit Puri. They were married 22 years.
Vandana was born on June 7, 1972 in New Delhi, India. She was the daughter of Bhagwan Das and Santosh (Saggar) Thapar.  She received her undergraduate degree from St. Bede's College in Simla and then received a Master's in Mass Communications from Punjab University.  She worked for several years as a journalist and editor and then centered her life upon her family, friends, and community.  She was diagnosed with breast cancer at age 34 and survived the disease for 13 years with an indomitable courage and a quiet grace, overcoming fear and pain by connecting deeply with others and bringing laughter and happiness to everyone in her presence.
Survivors:  Her husband Rohit, son Jai, mother Santosh, and brothers Vivek and Vishal.
Viewing:  Sunday November 15, 2020 from 9:15AM to 10:15 AM in the Herron Funeral Home 458 Center Street Bethlehem, PA  18018.   (610-866-0671)
Hindu Service: Private. The service will be livestreamed through the Herron Funeral Homes YouTube channel.  The livestream will be available at 10:30 AM on Sunday November 15, 2020. To access the live stream, please navigate to www.Herronfuneralhomes.com and click on the YouTube icon.