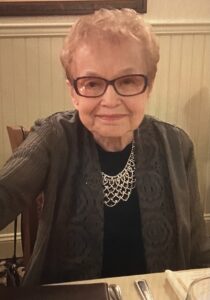 Wanda Felician (Gitz) Schmitt passed away peacefully on September 20th, 2022. She was married to Robert, "Bob" Schmitt for 68 years. Wanda was born to John Gitz and Blanche (Talkowski) May 11th, 1934. She was a homemaker and mother of five children. Her family resided in Hazleton, PA until 1967 when they relocated to Bethlehem, PA. Upon her husband Bob's retirement in 1985, they worked side by side for nearly 20 years. Her goal was to accumulate 40 quarters of a working history so she could receive her own social security. Her employment included: shuttling cars for Hertz, distributing brochures to welcome centers across Lehigh County, house sitting, and chauffeuring young adults to colleges. Past time activities included camping, cruising, and dancing but her true love was pinochle as she and her dear friend of 83 years, Betty, dominated the game with skill and strategic prowess. Wanda was a big FAN of dining out and Jimmy's Hot Dogs gets the prized top-of-the-list spot where family sporadically gathered to share Hazleton memories and enjoy their "tubes of mystery meat." A shout out to Sondra and Tania her last set of dedicated caregivers who faithfully  enabled her wish of aging-in-place to become a reality.
Survivors include- Children: Bobby (RoseAnn), Sharon, Cindy (George), Donna, David. Grandchildren: Erik, Jason, Alyson, Greg, George III, Michael, Kate. Great grandchildren: Reese, Tessa, Trey, Sawyer, George IV, Theo, Ernest, Maren, Samuel, and Noah. Brother-in-law William Schmitt (Janet)
Predeceased by: her husband Bob April 1, 2020 and son-in-law Steve October 2, 2020 and brother John February 19, 2005
Service: A celebration of life for our dear mother and friend will be held at a later date. Her ashes will be united with her husband's and scattered at their memorable places. Funeral arrangements by the Herron Funeral, Bethlehem, PA. www.Herronfuneralhomes.com
 Contributions: To a charity of your choice.