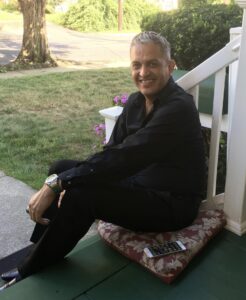 Agustin Solivan Jr passed away suddenly on July 31st, 2022 in Bethlehem, PA. Agustin was born on January 11th, 1968 in Salinas, Puerto Rico to parents Agustin Solivan Sr and Norma Rosario. Agustin was the youngest child of three, his sister Brenda Lee Diaz  passed in 2021, and is survived by his older brother Alexander Solivan.
Agustin is survived by his nieces Tabitha Strayer and Tiffany Solivan, nephews Hector Diaz and Gabriel Solivan; along with his grandniece Leticia Solivan, grandnephews Aries Diaz, Kannon Strayer, and Helios Diaz.
To know Agustin was to know love. The true testament to Agustin was the one-of-a-kind impact that he had on most everyone he knew. When Agustin entered your life, it was with a splash and spark that made you smile and realize what spontaneity means in an ordinary day. Agustin's zest for life will be remembered with love, long after his passing. Agustin was a beautiful person inside and out. There wasn't a single person that didn't love him. While Agustin was taken too soon from our world, his imprint of who he was will never leave.
Viewing:  Friday August 5, 2022 from 2PM to 4PM in the Herron Funeral Home 458 Center Street Bethlehem, PA  18018. www.Herronfuneralhomes.com