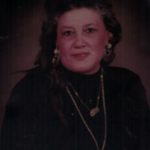 Aida L. Gaumer, 70 of Bethlehem, passed away on May 17, 2018. She was the wife of George D. Gaumer.
Born in Patillas, Puerto Rico on May 24, 1947, she was the daughter of the late Quinton and Petronilla (Santiago) Garcia.
Survivors: survived by her husband George, daughters Nancy Maury wife of Jose and Judy Rivera-Garcia; sisters Lucy Cruz and Fela Garcia; 6 grandchildren and 12 great-grandchildren.
Services: Viewing Tuesday, May 22nd from 6-8PM and Wednesday, from 9:30-10:30AM with a service to follow at 10:30AM in the John F. Herron Funeral Home, 458 Center St., Bethlehem, PA. Burial, Holy Saviour Cemetery in Bethlehem.