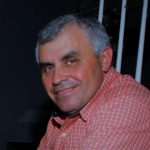 Silverio Pequeno, 68 of Bethlehem, died May 17, 2018 at St. Luke's Hospital. He was the husband of Deolinda (Goncalves) Pequeno. They would have celebrated 45 years of marriage in December.
Silverio was born on February 23, 1950, son of the late Antonio and Albertina (Lourenco) Pequeno.
He worked as a pipe layer and was a member of the Assembly of God Church in Bethlehem. In his early life as a farmer in Portugal, Silverio learned the value of hard work, which he applied to every aspect of his life. A man of devout faith, an avid gardener, and a meticulous craftsman, Silverio used these skills to build a better life for his family in America.
Survivors: His wife Deolinda; sons Pedro (Pete) and his wife Rebecca, and Joao Paulo (John); granddaughter Katelyn Pequeno; predeceased by twin brother Fernando and brother Alfonso, and sisters Benilde and Lucilia.
Service: Viewing on Sunday, May 20th from 5PM-7:30PM in the John F. Herron Funeral Home, 458 Center St., Bethlehem, PA and on Monday, May 21st from 10AM-10:30AM with a service at 10:30AM at the Assembly of God Church, 1300 Eaton Ave., Bethlehem, PA. Burial to follow at Union Cemetery of Hellertown. Reception for Friends and Family to be held at Assembly of God Church from 2PM-4PM.