Nikiforos G. "Nick" Kiapokas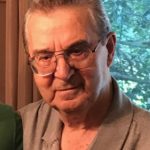 Nikiforos G. "Nick" Kiapokas, 85 of Bethlehem fell asleep peacefully to the Lord on May 15, 2018 surrounded by his loving family. He was married to the love of his life, Evanthia (Langoussis) Kiapokas until her passing on May 6, 2006.
Nick was born on April 7, 1933 in Kos Island, Greece, son of the late George and Thalia (Hazinicolao) Kiapokas.
Nick immigrated to the United States in 1965 and lived in Lancaster, with family before moving his family to Bethlehem in 1970.
He owned the House of Pizza in Bethlehem, which was the spot to go for the best pizza in town for 15 years. Later he owned International Foods in Bethlehem. His passion for food translated through his cooking whether it was for his family or his customers. When Nick was not cooking he was enjoying his passion for watching "porosforo" (soccer). His passion for soccer was so great that he served as president of the Hellenic Soccer Club for many years.
He was a faithful Orthodox Christian and a member of St. Nicholas Greek Orthodox Cathedral in Bethlehem. His relationship with the Lord was very important to him and showed his compassion for his faith everyday. He loved life and would always say, "life is sweet".
Survivors: His daughters Theodora N. of Bethlehem and Thalia Schmidt wife of Ronald Schmidt, Jr. of Northampton; son George of Bethlehem; grandson Devon Schmidt; brother Mike Kiapokas of Lancaster; sister Popi G. Katsiuli of Kos Island, Greece; nieces and nephews. Predeceased by three brothers Dr. Manoli G., Peter G. and Dimitri G. Kiapokas.
Services: Tuesday May 22, 2018 at 11 AM in St. Nicholas Greek Orthodox Cathedral 1607 West Union Blvd. Bethlehem, viewing 10 AM to 11 AM in the Cathedral. Interment, Cedar Hill Memorial Park Cemetery Allentown. Funeral arrangements are by the John F. Herron Funeral Home, Bethlehem.
Contributions: To the Cathedral.