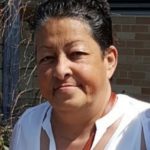 Aida L. Martinez, 59 of Allentown died on February 14, 2020 at Lehigh Valley Hospital-Cedar Crest. She was the wife of David Osorio Cordero for over 37 years.
Aida was born in Bayamon, Puerto Rico on September 8, 1960 daughter of the late Alfilio Martinez and Aracelis Alvelo.
Survivors: Husband David, daughters Aida Rodriguez, Cruz Rodriguez, Melissa Martinez and Jacqueline Osorio, son David Osorio, 14 grandchildren and many brothers and sisters.
Service: There will be a viewing on Friday February 21, 2020 from 2PM to 4 PM in the Sell-Herron Funeral Home 1145 Lehigh Street Allentown.
Contributions: To the family in care of the Funeral Home.