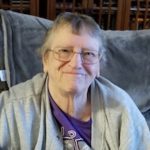 Eva L. Thomson, 78 of Easton died peacefully on February 18, 2020 at home surrounded by her family. She was the wife of the late Robert F. Thomson, Sr.
Eva was born in Trenton, NJ on May 18, 1941, daughter of the late Charles and Helen Wakley (Carr) Fitzgerald.
She was a member of Rock Hill Mennonite Church in Souderton.
Survivors: Daughters Linda Warren wife of Lewis and Donna Yeager, brothers Stanley Fitzgerald husband of Linda, James Fitzgerald and Paul Fitzgerald husband of Wilma, 14 grandchildren, 13 great grandchildren. Predeceased by a son Robert F. Thomson, Jr. in 2008 and by a great-grandson 2012.
Service: Celebration of Life to be held on Tuesday February 25, 2020 between 11AM and 1PM at the home of her daughter Linda 1350 Ferry Street Easton, PA 18042. www.Herronfuneralhomes.com
Contributions: In her memory, to the American Cancer Society