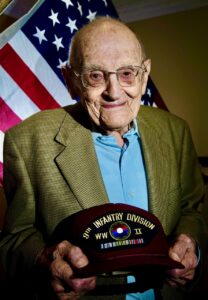 Albert Fraind passed peacefully in his sleep on Sept. 6th  He was one of 4
brothers born in Allentown on Feb 6, 1920 to Albert and Caroline Fraind.
Albert graduated from Central Catholic High School  in 1939 where he was a member of the basketball team.
In 1941 at the start of World War II he was drafted to serve in the Army as a member of the 9th Infantry Division. He took part in 8 major campaigns mostly under the leadership of Gen. George Patton. Some of the campaigns were the invasion of North Africa, French Morraco, Sicily, Normandy, Battle of the Bulge and the freeing a concentration camp in Elsenburg Germany.  Albert was part of the second wave on Omaha Beach on  D day. He received the US Foreign Service Medal, the Soldiers Medal, Bronze Star for Heroism and the Combat Ribbon with 8 Oak Leaf Clusters.
After the war Albert joined the Allentown Fire Dept. where he served for 30 years rising to the rank of First Deputy Chief. He was a charter and board member of the Pa. Assoc. of Arson Investigators as well as  a member of the Civil Service Board of the Allentown Fire Department. After retiring from the department he joined Lehigh County as the Ombudsman for Long Term Care.
Albert was the beloved husband of over 70 years to the late Norma Fraind. He is survived by his son , Anthony Fraind and wife Carol, his daughter Donna LaBuda and husband Joel. He is also survived by his five grandchildren Anthony Fraind, Stephanie Bulman, Joel LaBuda, Jennifer Piper and Jessica LaBuda as well as his 7 great-grandchildren.
Funeral Mass on Wednesday September 14, 2022 at 10:30AM, call 10AM to 10:30AM in St. John The Baptist Slovak Catholic Church 924 North  Front Street Allentown, PA  18102.  Burial with Military Honors to follow at Gethsemane Cemetery in Easton, PA.  Funeral arrangements by the Sell-Herron Funeral Home, Allentown www.Herronfuneralhomes.com
Contributions in his memory to St. John The Baptist Slovak Catholic Church 924 North front Street Allentown, PA  18102.