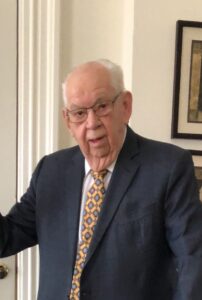 Lloyd L. Kemmerer, 94, of Bethlehem passed away on September 9, 2022.
Born in Hellertown PA on November 20, 1927.  Lloyd attended Hellertown High School. He started his working career at 16 years old starting at Dennis Drugs, then enlisted in the Navy and continued his working career as a Partner in Dennis Drugs, K S & Z Builders, and K & K Apartments.
He sold Real Estate at John Judd Real Estate for 42 years. He also had his own office on East Broad Street for many years.
Lloyd was very active over the past 60 years with the Salvation Army, Lions Club, and the Masons.
Lloyd was  also a long standing member of Christ Church UCC.
Lloyd was the son of the late Charles and Emily (Laubach) Kemmerer and is predeceased by his wife Betty, sister Caroline Bachman, brothers Henry, Arland, Richard, and Carl.   Lloyd and all his brothers served their country in the Armed Forces.  Henry died during WWII.
Lloyd is survived by his companion Maryanne Springfield of Bethlehem, sisters Verda Zaparzony of Bethlehem, Gloria Eisenhardt of Hellertown, Marlene Groff of Bethlehem and Lois Brown of Bethlehem.
Viewing & Funeral:  Tuesday September 13, 2022 from 5PM to 7 PM and  Wednesday September 14, 2022 from 10AM to 11AM, followed by the Funeral Service at 11AM all at the Herron Funeral Home 458 Center At Market Streets in Bethlehem. Entombment with Military Honors to follow at the Mausoleum at Cedar Hill Memorial Park in Allentown. www.Herronfuneralhomes.com
Contributions: In lieu of flowers to Lehigh Valley Outreach Depot 619 E. Allen  Street  Allentown, PA 18109.