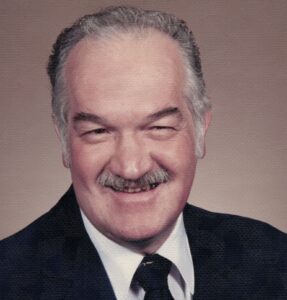 Alfred T. Beahm, 90, of Bethlehem passed away on March 31, 2022, at Riverton Senior Living in Allentown.
He was the husband of Patricia (Nunnemacher) Silfies-Beahm. They would have been married 25 years on September 22nd.
Son of the late Stanley and Violet (Cope) Beahm, Al was born in Freemansburg on March 6, 1932.
He served in the US Army during the Korean War.  He was an electrician, retired from the Bethlehem Steel Company.  Al was a member and a frequent usher of Christ Church United Church of Christ Church in Bethlehem.
For many years Al and Pat  brought humor and smiles to the patients at St. Luke's Hospital in Fountain Hill as clowns, Doctors Bandaides and Stitches.
Survivors: Wife Patricia Silfies-Beahm; daughter Laura Welkey, wife of Mark of Bentonville, AR; son Lawrence Beahm, husband of Melissa of FL; five grandchildren: Jessica and Regan Welkey, twins Daniel and David Silfies and Brittney Ortiz; 6 great-grandchildren; stepsons Terence A. Silfies (Aziza) of Whitehall, Steven W. Silfies of Whitehall and Martin J. Silfies (Brenda) of Bethlehem.  Predeceased by siblings Annabelle Wallery, Dorothy Hildenbrandt, Stanley Beahm, Kenneth Beahm, Evelyn Kish and Harris Beahm.
Graveside Service with Military Honors: Friday April 8, 2022 at 3PM in Fairview Cemetery, New Street in Bethlehem.
Time of Remembrance: Sunday April 10, 2022 at 11AM at the Gathering Place at Christ Church UCC, 75 East Market Street, Bethlehem, PA 18018. Funeral arrangements Herron Funeral Home, Bethlehem, www.Herronfuneralhomes.com
Contributions:  To the Church