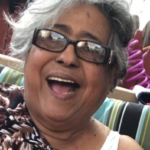 Ana J. Doble, 79 of Allentown died on August 8, 2017 at home.
Ana was born in the Dominican Republic on January 28, 1938, daughter of the late Carlos and Gracia Souffront.
Survivors: Sons Octavio Doble, Juan Doble, Jose Rodriguez and Carlos Rodriguez; daughters Emma Rodriguez, Ana Diaz, Maria Doble and Myra Rodriguez; brothers Roberto Souffront and Ramon Souffront; many grandchildren and great grandchildren.
Service:  Funeral Service on Friday, August 11th at 1PM with a viewing from 11AM-1PM at the Sell-Herron Funeral Home, 1145 Lehigh Street, Allentown. Burial in Greenwood Cemetery in Allentown.
Contributions: First Pentecostal Church Bethania in Allentown.