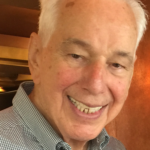 Anthony "Tony" Makris, 90 of Easton, died on July 28, 2019 at Lehigh Valley Hospital Muhlenberg. He was the husband of Patricia (Rush) Makris, they were married on May 29, 1996, and the late Harriet Dexter (Ballweg) Makris who died in 1993.
Tony was born in Bayonne, NJ on October 29, 1928 to the late Alex and Angela (Hartacolis) Makris.
He served his country faithfully and honorably in the US Army during the Korean War. He was a Disabled American Veteran. He was an American Legion Member and a DAV Life Member. Tony was a 60 year member of the International Brotherhood of Electrical Workers Union and served in many administrative positions. He was employed as an International Representative for over 26 years prior to his retirement. He negotiated contract agreements, arbitrated grievances and disputes and serviced many local Unions. He was instrumental in leading the contract negotiations for the Western Electric Company employees who were IBEW members. More recently, Tony served as the Business Administrator for the IBEW/Lucent Retirees. He was a member of the Fullerton American Legion Post 367.
He was a member of St. Nicholas Greek Orthodox Cathedral in Bethlehem.
Survivors: Wife Patricia; sons Michael, Owen and Brett (Cindy); daughter Dexter Hanel (Robert); sister Stella Aliferis; stepchildren Jim Nimas (Stacy) and Nikki Benjamin (Scott); 11 grandchildren. Predeceased by brothers Gene and Michael N. Makris.
Service: A service will be held on Friday, August 2nd at 11AM with a viewing from 10AM- 11AM at St. Nicholas Greek Orthodox Cathedral, 1607 W. Union Blvd., Bethlehem, PA 18017. Entombment to follow at Cedar Hill Memorial Park, Allentown. Arrangements are by John F. Herron Funeral Home, Bethlehem, PA. www.herronfuneralhomes.com
Contributions: In lieu of flowers to the charity of your choice.