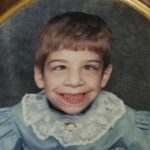 Eileen A. Costantino, 38 of Allentown, died peacefully at Lehigh Valley Hospital Cedar Crest on July 26, 2019.
She was born in Kingston, PA on March 10, 1981; daughter of Nancy (O'Boyle) Costantino and Anthony Costantino.
Eileen was a member of the Challenger Baseball League of the Lehigh Valley. She loved going for walks and shopping. She was also a member of the former Christ Methodist Church in Allentown.
Survivors: Mother Nancy of Allentown and father Anthony Costantino of Whitehall; sister Tara M. Mancini and her husband Doug of Orefield; nephews Dante and Nikko and niece Gianna; aunts, uncles and cousins.
Service: Viewing on Friday, August 2nd from 4PM- 7:30PM followed by a service at 7:30PM at the Sell-Herron Funeral Home, 1145 Lehigh Street, Allentown, PA 18103. Additional viewing on Saturday, August 3rd from 9AM -10AM in the Sell-Herron Funeral Home; burial to follow at St. Mary's Cemetery on Wilkes-Barre, PA. www.herronfuneralhomes.com
Contributions: To the family, Nancy Costantino, c/o the funeral home.