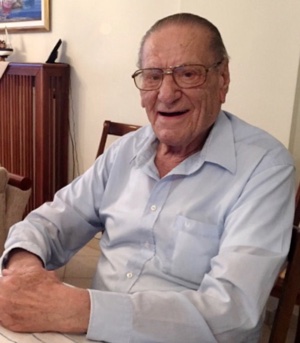 Athanasios Dragatsikas, 92, of Allentown, passed away on October 23, 2017, on the day of his 63rd wedding anniversary. He fell asleep at his home in peace, surrounded by his loving family.
In his last few years of life, Athanasios suffered with Parkinson's disease.  He was born on June 2, 1925. He was the youngest of five, born in Kozani, Greece, to Dimitrios and Anastasia Dragatsikas. He served in the Greek army and is a veteran of the Second World War. In Greece, he ran a tavern with his two brothers until 1970, when he took his wife and two children across the Atlantic to America. He worked hard in various jobs while learning the English language, and in 1979, he became the owner of All American Diner on 9th and Linden Streets in Allentown. He later opened Quakertown Family Restaurant. Upon his retirement, he enjoyed spending time with his wife, children, grandchildren and great grandchildren. He enjoyed traveling around the world and spent most of his retirement visiting friends and family in Greece.  He was a member of the Saint Nicolas Greek Orthodox Cathedral in Bethlehem, Pennsylvania.
Survivors:  wife, Theodora; two children, Dimitrios and Anastasia Hatzis and her husband Chrysostomos; four grandchildren, Athan, Theodora, John and his wife Aja, and Katerina and her husband Gaetano; and three great-grandchildren, Benicio, Nicolas, and Anastasia. He is also survived by family in Greece.
Services:  Friday, October 27th at 12Noon with a viewing from 10:30am- 12Noon in St. Nicholas Greek Orthodox Cathedral, 1607 W. Union Blvd., Bethlehem.  Funeral arrangements by the  John F. Herron Funeral Home 458 Center Street   Bethlehem, PA  18018.
Contributions: As was his giving nature and faith, the family asks that in lieu of flowers, donations be made in his honor to the Saint Nicholas Greek Orthodox Cathedral or the Parkinson's Disease Foundation, all in care of the funeral home.