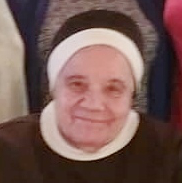 Barbara A. Clewell, 80 of Allentown died on August 19, 2019 at St. Luke's Hospital in Allentown.  The wife of the late Rev. Richard N. Clewell for 43 years until his death on September 17, 2000.
Barbara was born in Troy, NY on January 20, 1939, daughter of the late Robert and Dorothy (Gilly) Lester.
Barbara was a member of St. Francis of Assisi Church in Allentown.  Following the death of her husband Barbara became a Consecrated Widow of the Good Shepherd taking the name of Sister Elizabeth Ann Seton.  She was a Eucharistic Minister and volunteered at Lehigh Valley Hospital for many years.   When she was 80 she went parasailing on Lake George.
Survivors: Son Richard N. Clewell, Jr. of Allentown; daughters Elizabeth L. Schmeltzle wife of Terry of Emmaus, Judith M. McCluskey wife of Scott of Somerset, KY and Margaret A. Sack wife of Gerard of Danbury, CT; six grandchildren Jamie, David, Steven, Andrew, Elizabeth and Richard and five great-grandchildren.  Predeceased by a daughter Cheryl H. Longenbach and granddaughter Rachel.
Service: Funeral Mass on Friday August 23, 2019 at 1:30PM with a calling from 1PM to 1:30PM all at St. Francis of Assisi Church 1049 W. Cedar  Street Allentown. Burial in Highland Memorial Park Cemetery in Allentown. Funeral arrangements by the Sell-Herron Funeral Home in Allentown, www.Herronfuneralhomes.com.
Contributions:  Forgotten Felines  and Fidos, Inc.  6022 Mountain Road Germansville, PA  18053