Dr. Garold (Gary) Joseph Borse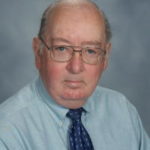 Dr. Garold (Gary) Joseph Borse, was born on December 20, 1940 and passed away unexpectedly on Tuesday, September 3, 2019 in his home in Chattanooga, TN.
Gary was a resident of Chattanooga, TN and a long-time resident of Bethlehem, PA. He was born in Detroit, Michigan, and graduated in 1958 from St. Rita's High School. Gary received his B.S. in Physics and Mathematics in 1962 and his M.S. in Physics in 1964 from the University of Virginia and his Ph.D. in Physics from the University of Virginia in 1966. Gary attended the University of Virginia on a National Defense Scholarship.
Gary married his soul mate, Sarah (Sally) Jane Jordan Borse, on September 7, 1963. They had the true love story as partners and best friends.
He began his career at Lehigh University as an Assistant Professor of Physics in 1966 and spent the summer of 1967 and 1968 as a Visiting Scientist, Department of Physics at Case Western Reserve, Ohio. He was promoted to Associate Professor at Lehigh University in 1971 and to Full Professor in 1976. He served as Associate Chairman and Chairman of the Department during his long tenure. Gary was a lifelong learner and had a passion for teaching. He delivered guest lectures at his children's schools and various other organizations sharing his love of the sciences.
Gary always sought out adventure and was nominated by the National Academy of Sciences to the Czechoslovak Academy of Sciences as an exchange scientist. He spent much of that year at the Institute of Nuclear Research of the CSAV at the Rez (near Prague) when he and his family were not exploring Europe.
Gary was a member of the American Physical Society and a Contributing Editor to PWS Publishing Company. He started his research career in theoretical structure of the nuclei and later developed an expertise in the area of Mathematical and Computational Physics. He expanded his interests into Computer Programming and wrote several texts books about Fortran 77 and Matlab. Gary was a contributing author to at least 25 research articles.
Upon his retirement from Lehigh University, Gary and his wife Sally moved to Chattanooga to be nearer to their grandchildren. They were well traveled and especially loved Europe, the Caribbean and the American West. Gary loved the arts, classical music and his family. He was most proud of his 5 grandchildren.
He was preceded in death by his loving wife of 55 years, Sarah Jane (Sally) Borse who died two months before him on June 12, 2019, and his parents Ruby and Clarence Borse.
Gary is survived by two children, Deborah (Randy) Cooper of Brentwood, TN, Douglas Borse (Nicole) of Atlanta GA; grandchildren Randy, Katie, and Kara Cooper, and Jack and Grey Borse; a sister, Susan Combest, as well as five nieces and 3 nephews.
A memorial service will be held on Saturday, September 21, 2019 from 2:00 – 4:00 pm at the Herron Funeral Home, 458 Center St. in Bethlehem, Pa with a celebration of life to follow at Molly's Irish Grille & Sports Pub. In lieu of flowers, please consider contributing to the Juvenile Diabetes Foundation (www.jdrf.org). www.herronfuneralhomes.com