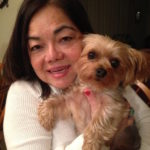 Beau M. Kourkounakis, 70, of Easton passed away on December 10, 2017 at Temple University Hospital in Philadelphia. Wife of George A. Kourkounakis, they were married 38 years on July 20th.
Beau (Bao Maan) was born in Hua Lien, Taiwan (Republic of China) on February 15, 1947, daughter of the late Chin Chu Cheng and Gan Li.
She attended Ling Tung University in Taipei prior to moving to the United States. She was most recently a homemaker and previously worked in retail management for Southland Corporation.
She was a devoted and loving wife, mother, grandmother, sister and aunt. Her kindness, thoughtfulness and loving nature were just a few of her many positive attributes.
Survivors:   Husband George, daughter Sharon Carraghan and her husband Shawn; sons Anthony Kourkounakis and Michael Kourkounakis; brother Kuo-Piao Cheng; sisters Chin-Chu Cheng and Bao-Lian Cheng; sister-in-law Linda Kourkounakis; granddaughter Kayla Carraghan; and many nieces and nephews.
Service: Wednesday, December 20th at 12:00 noon with calling hours from 11:00 AM-12 noon in the John F. Herron Funeral Home 458 Center at Market Street Bethlehem. Entombment to follow in Holy Saviour Mausoleum, Bethlehem, PA.
Contributions: To American Association of Buddist Education, 834 Georges Rd., Monmouth Junction, NJ 08852.