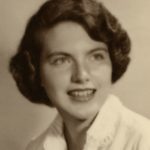 Roseanne Durnin Coffin passed away peacefully in her sleep on Sunday, December 10 after a long battle with respiratory illness. Her family and friends attended to her in her final hours. She was 75, lived a full life, and left this world a better place than when she entered it.
Roseanne was born in Coaldale, grew up in Jim Thorpe, and lived in Easton, where she raised her family. She lived briefly in southern Florida during her childhood while attending boarding school, and was part of a group that helped to test various flavors of powdered orange juice being developed for the space program, most of which tasted terrible. As a result, she never drank Tang nor honored her children's repeated requests for it at breakfast.
She obtained her undergraduate degree from Georgian Court University and her master's degree from Lehigh University. She taught high school biology for many years at Phillipsburg High School and at Phillipsburg Catholic High School, before becoming a guidance counselor and a vice principal. As an educator, Roseanne touched the lives of many; in a recent letter, the principal of Hillsborough High School credited her own career in education to Roseanne's guidance.
After Roseanne retired from education, she worked as a travel agent for many more years. A world traveler herself, she believed passionately in the power of experiences abroad to broaden one's perspective.
In her younger days, Roseanne enjoyed skiing. She was proud to be a certified CPR instructor. She spent many hours solving puzzles of any kind, and was a voracious reader. Her favorites were Agatha Christie novels, but she refused to read Curtain, the final Hercule Poirot novel. She knew Poirot died in it, and she preferred to imagine a favorite character forever active. She never finished reading Harry Potter and the Half-Blood Prince for much the same reason.
She loved spending time with her family and doted upon her grandchildren, who gave her much joy. When she could, she would travel to Atlanta and the Jersey Shore to see them.
SURVIVORS: Roseanne is survived by her sons Bill and Frank, and her four grandchildren, Fiona, Anna, Connor and Ethan. She was predeceased by her son Tom; her parents, Tom and Marie Durnin; and her dear friend Anne King. She was a loving mother, a steadfast friend, and most of all, a loyal wife.
SERVICES:   Roseanne has asked for her ashes to be scattered upon the ocean, since she loved taking cruises and would like one last excursion upon the water. She will not have a formal memorial service. Rather, the family will hold an Irish wake at her residence at 185 Skyline Drive in Easton, PA, on Saturday, December 23 from noon to 5:00 pm to remember how much she enjoyed welcoming any friends or family who stopped by. Funeral arrangements are by the Herron Funeral and Herron Crematory.
CONTRIBUITIONS:   No donations of flowers are needed; just friendship and cheer.