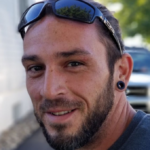 Joel J. Williams, 34 died on December 16, 2017 at home.
Joel was born in Allentown on August 14, 1983 son of Jeffrey R. and Debra (Norris) Williams.
He attended William Allen High School.
His love of sports started at a young age with his best coach in his corner Pop-Pop (Rudy). Playing various sports including basketball and baseball with several organizations including Union Terrace Athletic Club and CYO. Most currently playing softball with Buddy Brian and loved playing Golf Frisbee with his friend Jamey. Joel cherished the moments he spent with his childhood and longtime friend Matt.
Joel was a faithful follower of the Boston Red Sox and the Philadelphia Eagles.
Joel loved spending time playing with his nephew Chase, he was already teaching him the love of sports.
If you ever needed an ear to vent to, you could find him at one of his favorite spots the Ham-Fam sitting in a booth with a cup of coffee ready to listen. He so enjoyed spending times with his friends.
The enduring love he shared with his girlfriend Cari and Joel's smile and personality will continue on through the life and birth of his child in May.
He was a landscaper and maintenance with AJ Wildflower.
Survivors: His parent's Jeffrey and Debra, his sister Crystal A. Williams, and Nephew Chase , Girlfriend Cari Nalesnik , Grandmother Dolores Norris, Godparents William Kurnig and Kathy Rittoper, Aunt Maria and Uncle Angelo Tartaglia , Aunt JoAnn Gruber, Uncle David Norris and Uncle James Norris and several Cousins. He was predeceased by his Grandparents Rudolph and Dorothy Williams and Uncle Joseph Williams and Uncle Leon Gruber.
Services: Viewing on Tuesday from 9:30 AM-10:30 AM in the Sell-Herron Funeral Home 1145 Lehigh Street Allentown followed by a Graveside Service at 11AM in Greenwood Cemetery in Allentown.