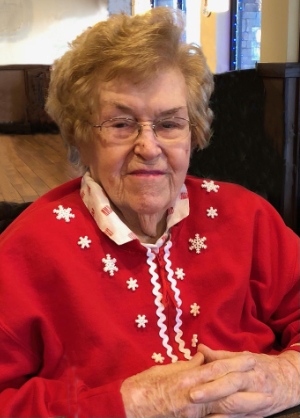 Betty McCandless James, 96 of Bethlehem passed away on March 19, 2021 at Holy Family Senior Living in Bethlehem.  Betty was the wife of the late Fred James who passed on November 20, 2003.
Betty was born in Bethlehem on November 3, 1924, daughter of the late Hilton T. and Mildred (Lynn) Stipp.
Betty was a 1942 graduate of Liberty High School where she participated in the choral and theatrical activities.  During her working years she served as secretary to the Superintendent of the Bethlehem Area School District as well as secretary for Wesley Methodist Church, YWCA of Bethlehem and at Bethlehem Steel.
Betty lived for her family, loved to travel and enjoyed entertaining her family and friends.  In the late 1980's she moved to Ft. Myers, FL.   After returning to Bethlehem, she lived for several years in the Moravian House III apartments, where she was active in the resident social committees.
Survivors: Her sons Jeffrey McCandless husband of Carol of Nazareth and Bruce A. McCandless spouse of Jaime DaSilva of  North Haledon, NJ, daughter Deborah Ernst wife of William of New Hampshire,
3 grandchildren Scott McCandless, Jill Ahearn and Christina Kolodzy, 6 great-grandsons; 3 step-children Nancy Ward, Judy James, Lisa Lozier, 4 step-grandchildren. She was predeceased by her  former husband  Richard D. McCandless who passed on February 2, 2012 and a sister Jeanne Drozd.
Memorial Service: Friday March 26, 20201, call 10AM-11AM followed by the service at 11AM all at the Herron Funeral Home 458 Center Street Bethlehem.  Burial in Nisky Hill Cemetery in Bethlehem.
Contributions:  In her memory to Holy Family Senior Living 1200 Spring Street Bethlehem, PA  18018.