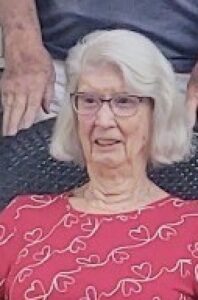 Beverly L. Lambert 88 of Easton journeyed to her eternal home on April 15, 2023 peacefully surrounded by her loving family and caregivers. She was the wife of Edward J. Lambert for 37 years until his passing on December 3, 2010.
Born in Glendon, PA she was the daughter of the late William and Ruth (Raub) Leamon.  Beverly graduated from Wilson High School in 1951.
She was a proof reader at Mack Printing in Wilson.  As a homemaker, Beverly loved cooking, baking and took pride in her home.
Beverly was a lifelong member of First  United Church of Christ in Easton where she  taught Sunday School, served on various boards and committees.
Beverly was a member of the Forks Lioness Club and enjoyed volunteering at the election polls in her community.
In her later years Beverly found joy in volunteering at Gracedale  Nursing Home in many capacities and always with a smile. In recent years she received recognition for her volunteer service.
Beverly's family will be forever thankful for the loving care she received at Renaissance Senior Home in Forks Twp, Aserca Hospice and Seniors Helping Seniors.
Survivors: Sisters Carolyn Getz of Forks Twp, Audrey Reilly of Amsterdam, NY and Bonnie (Harry) Wiggens of Ocala, FL; brothers Frederick Leamon of Amsterdam, NY and Rick (Melissa) Leamon of Palmer Twp.. Beverly will be sadly missed by several nieces, nephews, great nieces and nephews. Also survived by a step-daughter  Gail Anderson of Michigan and grandchildren Rashid (Sylvia) Salahvdin, Timothy Anderson, Mary (Jason), Jordan and great-grandchildren . Predeceased by a brother William Leamon and a niece Crystal Gray.  Funeral arrangements by the Herron Funeral Home in Bethlehem, www.Herronfuneralhomes.com
Memorial Service:  Thursday April 20, 2023 at 11AM in First United Church of Christ Church 27 N. 3rd Street Easton, PA  18040. Burial will be in Gethsemane Cemetery in Palmer Twp.
Contributions:  In her memory to the Church.