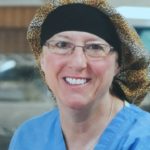 Bonnie Drabick, 61 of EmmausPA passed away peacefully in her home December 30th.
Born in Allentown, PA October 5, 1958 she was the daughter Stephen Drabick and Nancy Brophy, predeceased by her stepfather Paul.
Employed many years at Daytimers in East Texas her current position was as a Case Cart Technician; nicknamed Picker Palace at Lehigh Valley Hospital Cedar Crest after being there for over 13 years.
A graduate of Northwestern Lehigh in 1977 she also obtained a degree in Business Mgt at LCCC. Became certified in Reike, Massage therapy and Kinesiology, which allowed her to establish her own business Rain Forest to practice her skills on people.
She was an inspiration to everyone her knew her. Bonnie enjoyed her flower gardens, artwork and writing her own songs. She was in bands for many years as a drummer and singer and played guitar.
Bonnie is survived by her Mother Nancy, Father Stephen, Sister Brenda Adam and husband Mark, Brother Jim Drabick and Diann, Brother Jeff Drabick, and her beloved cat Simon.
Join us for her Celebration of Life to share memories and friendship February 8th at the Schnecksville Fire House Main Hall 1-4 pm
In lieu of flowers contributions may be made to the family c/o Herron Funeral Home. www.Herronfuneralhomes.com.