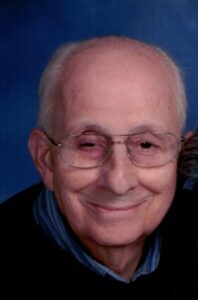 Carl J. Buttillo, Sr. 88 of Bethlehem passed away on October 16, 2022 at the Hospice House of St. Luke's in Bethlehem.  Carl was the husband of Mary Frances (De Leon) Buttillo, they were married 66 years  on April 7th.
Carl was born in Bethlehem on April 25, 1934 son of the late John and Irma (De Meglio) Buttillo.
He served in the US Navy during the Korean War.
He was a Letter Carried for the USPS retiring after 26 years.
Carl was a faithful member of Our Lady of Perpetual Help Catholic Church in Bethlehem.  He and his wife Mary sang in the Resurrection Choir.
Survivors:  Son Carl J. Buttillo, Jr. of Bethlehem; three  grandchildren Andrew (Nicole), Sarah (Rod) and Brendan (Katie), four great-grandchildren Elijah, Micah, Nina, Phoebe and a great granddaughter on the way.  Predeceased by a son Guy Joseph Buttillo in 1963,daughter in law Mary Ann, sister Louise Minarik, brothers Richard  and John .
Viewing & Mass:  Thursday October 20, 2022 viewing 9:15Am to 10:15 AM in the Herron Funeral Home 458 Center At Market Street Bethlehem, PA  18018.  Mass of Christian Burial at 11AM at Our Lady of Perpetual Help  3219 Santee Road Bethlehem, PA  18020.  Burial to follow in Holy Saviour Cemetery.
Contributions:  Our Lady of Perpetual Help Catholic Church.