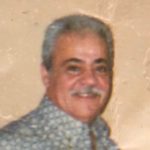 Carmelo Riche, 78 of Allentown died on October 4, 2019 at the Hospice House of St. Luke's. Husband of Laura (Tirado) Riche they were married 56 years on May 3rd.
Carmelo was an avid New York Mets fan.
Survivors: Wife Laura, daughters Norma Iris Riche and Lisa Marie Riche, 8 grandchildren, 6 great-grandchildren, brother Gilberto and sisters Carmen, Maria Mercedes, Constance, Marie Antonia and Luz Maria. Predeceased by a son Victor Manuel Riche and brothers Antonio and Manuel.
Service: A Time of Remembrance will be held on Tuesday October 8, 2019 at 7:30 PM, viewing 6PM-7:30PM in the Herron Funeral Home 458 Center At Market Street Bethlehem, www.herronfuneralhomes.com.
Contributions: In lieu of flowers to the family in c/o the Funeral Home.