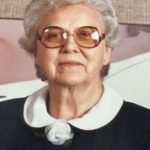 Mrs. Carol Louise (Copley) Feller passed to her eternal reward on Tuesday, June 19, 2018.  She was the wife of James R. Feller who passed in 2000.  Born September 3, 1923 in Hancock County Ohio to Levi W. Copley & Mary O. Lee.  She married James in 1947 in Findlay, Ohio.  She attended Marion College and worked at Ohio Oil.  Moved to Washington D.C. and worked at the Treasury.  It was there she had her daughter.  In 1953 she moved to Macungie, PA where she worked at Day-Timers for 38 years as a Secretary, Office Manager and Director of Customer Satisfaction.  Along with a full-time job and child she enjoyed playing the organ at Solomon UCC and Salem UMC.  In her later years she traveled Europe with Jim and played organs in numerous cathedrals.  They also enjoyed belonging to the Music Box Society International.  Her love of music brought her much joy in life.
Survivors: She is survived by, her daughter Randell A. Levisky and her husband Mark J. Levisky, grandchildren Robert Romig and wife Claudette, James Romig and wife Anna and Stephen Romig, great grandchildren, Julie, Laural, Jared, Stephen and Dalton.
Service: Private Celebration of Life at the convenience of the family, funeral arrangements are by Sell-Herron Funeral Home and Herron Crematory Allentown, PA.