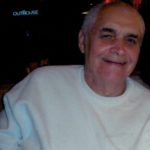 Theodore Bybel, 80 of Allentown died on June 19, 2018 at Lehigh Valley Hospital-Cedar Crest. Husband of Catherine (Reichard) Bybel, they would have been married 29 years on September 23rd.
He served in the US Army.
Ted was a loving devoted husband, father and grandfather who always viewed life as the glass half full.
Ted was born on April 18, 1938 in Maspeth, NY, son of the late Ignace and Isabel (Hart) Bybel.
Survivors: His wife Catherine, sons Michael and Stephen; daughters Donna Walker, Suzanne Decheine and Roz Glose; sister Esther V. Cochrane; 11 grandchildren and 4 great-grandchildren.
Service: Private, arrangement are by the Sell-Herron Funeral Home Allentown.