Christine Ann (Kohut) Sefcik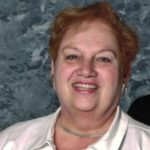 Christine Ann (Kohut) Sefcik, 73 of Allentown passed away on February 8, 2020 surrounded by her family in the care of Hospice at Lehigh Valley Hospital-Muhlenberg. Christine was the wife of Jerome M. Sefcik, they would have been married 52 years on May 25th.
Christine was born on January 5, 1947 in Easton, daughter of the late Stephen and Margaret (Haycak) Kohut.
Christine graduated Central Catholic High School in 1965 and later from Bethlehem Business School.
Christine was the Office Manager at the Kohut Funeral Home in Allentown for over 30 years assisting her father Stephen Kohut until he sold the business in 2006.
Christine was a member of St. John The Baptist Slovak Catholic Church in Allentown. She was a member of the Ladies Auxiliary and worked at the Church festivals and bazaars.
Survivors: Husband Jerome M, sons David M. Sefcik husband of Alicia A. (Lindenmuth) of Orefield and Colin S. Sefcik husband of Melissa A. (Bailey) of Emmaus, three grandchildren Andrew T., Jessica D. and Aidan P. Sefcik.
Service: There will be a viewing on Wednesday February 12, 2020 from 8:30AM to 10:15AM at the Sell-Herron Funeral Home 1145 Lehigh Street Allentown, PA 18103, followed by a Mass of Christian Burial at 11 AM at St. John The Baptist Slovak Catholic Church 924 N. Front Street Allentown, PA 18102. Burial will be private at the convenience of the family. www.Herronfuneralhomes.com.
Contributions: In lieu of flowers, to the Church Memorial Fund in care of the funeral home.