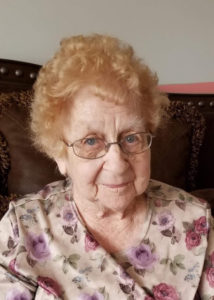 Mary L. Eckhart born September 13, 1928 in Lehighton passed away on February 6, 2020 in Gracedale Nursing Home. She was the wife of the late Paul L Eckhart Sr.
Mary loved to sing and listen to country music and spending time with her family.
Survivors: Daughters, Sandra K. Kuzmak and Debra Moyer, wife of Mark, sons, Donald husband of Diane, Paul husband of Joyce and David husband of Sally, 14 grandchildren, 14 great grandchildren, sisters Elizabeth Getz, Dolores Hunter, Sharon Reinsmith and a brother Gordon. Predeceased by grandson, Christopher Kuzmak.
Service: Funeral service on February 10, 2020 at 1:30 with a viewing from 12:30 – 1:30 in the Sell-Herron Funeral Home 1145 Lehigh Street Allentown. Burial in Grandview Cemetery in Allentown. www.Herronfuneralhomes.com
Contributions: Parkway Church of Christ, Allentown