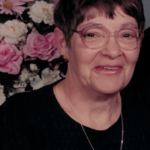 Clara Mae Moser, 76 of Allentown passed away on March 9, 2020 at home. Wife of Karl H. Moser, they would have been married 43 years on July 31st.
Clara was born in Allentown on October 18, 1943, daughter of the late Richard and Hilda (Holtzman) Gehris.
Clara was a matcher at Phoenix Clothing for 26 years and later worked in the Dietary Department at Good Shepherd Home for 10 years.
She was a member of Grace UCC in Allentown. Clara was also a member of Fullerton Fire Co., Fairview Fire Co., and was an officer at St. Aloysius Men's Society in Allentown.
Survivors: Husband Karl, sons Ronald Beck husband of Donna and Richard C. Beck, grandchildren R.J. and Travis, great-grandchildren Tyler and Ashton, nephew Gary Appel. Predeceased by a sister Catherine Eichlin.
Service: Private at the convenience of the family. Funeral arrangements by the, Sell-Herron Funeral Home in Allentown.
Contributions: Grace UCC-Allentown, American Heart Association or American Cancer Society.