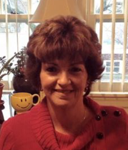 Darlene M. Sculley, 54 of Bethlehem died on March 18, 2017.
Darlene was born in Bethlehem on January 4, 1962, daughter of the late Stanford and Helen (Younger) Rinker.
Survivors: Son Christopher Sculley; daughters Kathleen Sculley and Lauren Sculley; sisters Dolores Hullshizer and Anna Toth; grandson Chase Sculley; nieces and nephews.
Service: Viewing on Sunday, March 26th from 2-4PM in the John F. Herron Funeral Home, 458 Center Street, Bethlehem.
Contributions: To the animal charity of your choice.