Luray V. "Peggy" Fenstermaker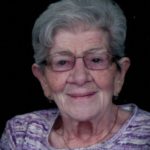 Luray V. "Peggy" Fenstermaker, 94 of Bethlehem died on March 7, 2017 at   Saucon Valley Manor in Hellertown Luray was the wife of the late Franklin L. Fenstermaker, they were married 64 years when he died in 2009.
Peggy was born in Allentown on July 27, 1922 daughter of the late Clarence E. and Cora R. (Nagle) Bennicoff.
Peggy attended Calvary Bible Fellowship Church in Coopersburg.
Peggy was formerly of Allentown, Promised Land and Ft. Myers, Florida. She was a devoted wife, mother and grandmother.
Survivors: Her daughters Diane L. Weidner wife of George R. of Hamburg and Hattie J. Laudenslager wife of Glenn E. of Lower Saucon Twp.; Seven Grandchildren Dale, Leanne, Kurt, Karen, Nathan, Joshua and Zachary; 17 great-grandchildren; sister Marietta Seyfried of Whitehall and brother Theodore Bennicoff of Nazareth. Predeceased by a grandson Troy Laudenslager, sisters Cora and Rachel, brothers Charles, Walter, Clarence and Robert.
Services: Memorial Service on Saturday March 11, 2017 at 11 AM, with a calling from 10:30AM to 11 AM in Calvary Bible Fellowship Church 6782 N. Main Street Coopersburg. There will be a luncheon following the service in the Fellowship Hall. Interment will be private at the convenience of the family. Funeral arrangements by the Sell-Herron Funeral Home 1145 Lehigh Street Allentown, PA 18103.
Contributions: To Heartland Hospice c/o the Funeral Home, 18103.