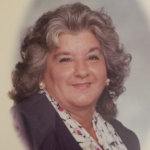 Kalliope (Caroline) Milios, born on June 30, 1939, died peacefully at 77 in her home on March 6, after a courageous four year battle with cancer. She was the wife of Stylianos Milios for 58years, on February 15th.
Born in Constantinople (Istanbul) Turkey, where she wed before moving to Greece and migrating to the states with her husband and three children.
She was a member of St. Nicholas Greek Orthodox Cathedral, Philoptochos Society and Senior Citizens.
Survivors: Kalliope was survived by: Husband- Stylianos (Steve) Milios, Children- Eleni Milios (Emilios), Carol Greenwalt (Gary), Athanasios Milios (Erica), 10 grandchildren, 5 great grandchildren.
She was predeceased by her parents Dimitrios & Eleni Christides.
Services: Funeral Service on Thursday March 9, 2017 at 11AM, with a viewing from 10AM to 11AM  in St. Nicholas Greek Orthodox Cathedral 1607 West Union Blvd. Bethlehem. Funeral arrangements by the John F. Funeral Home in Bethlehem.
Contributions:  In lieu of flowers to the American Cancer Society or St. Nicholas Cathedral.