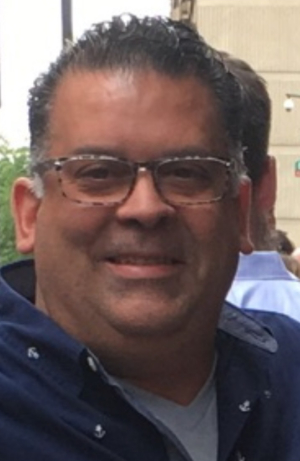 David J. Cordero, 53 of Bethlehem died on May 30, 2018.  Husband of Alexandra M. (Culishenko) Cordero, they would have been married six years in July 11th.
David was born in Bethlehem on July 11, 1964, son of Mariano and Mercedes (Huertas) Cordero of Bethlehem.
He graduated from Bethlehem Catholic High School in 1982.
David was a car salesman at Brown Daub KIA.
He was a member of Holy Infancy RCC in Bethlehem.
David's family and music were his greatest passions.
Survivors:  His wife Alexandra, parent's Mariano and Mercedes; daughter Gabriella Cordero of Pine Hill, NJ; sons Joseph Cordero of Deltona, FL and Dante Cordero of Pine Hill, NJ; granddaughter Janaya Cordero; sisters Lillian McFadden(Patrick) of Bethlehem  and Maria Lelievre (Albert) of Canada; brothers Luis Cordero (Christine) of Bethlehem, William Cordero (Gloria) of Nazareth, George Cordero (Dianna) of Allentown.
Service:  Funeral Mass on Monday June 4th at 10AM in Holy Infancy RCC 312 E. 4th Street Bethlehem.  Viewing on Sunday June 3rd from 5PM to 8PM in the John F. Herron Funeral Home 458 Center At Market Street Bethlehem.  Burial in Holy Saviour Cemetery in Bethlehem.
Contributions: To Alexandra Cordero for the education of his children in c/o Herron Funeral Home or to Holy Infancy RCC.