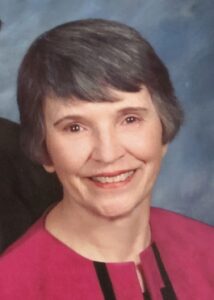 Dolores Rachel Tubio Schiesser, age 88, passed away after a brief illness on Monday September 11, 2023.  She was a Registered Nurse who always endeavored to help those who were less fortunate than her.
Dolores was born in Allentown, Pennsylvania on February 8, 1935, and was a lifelong resident of Lehigh County.  She graduated from Parkland High School in 1952 and St. Luke's Hospital School of Nursing in 1955.  She received her Bachelor of Science in Nursing from Cedar Crest College in 1958.  Dolores married William E. Schiesser on December 27, 1958 in Princeton, New Jersey.  She was a devoted member of the Cathedral Church of the Nativity in Bethlehem, and served as a volunteer within the church in numerous roles and on many occasions.  Her Christian faith and heartfelt belief in the universal kinship of mankind sustained her through challenging times in her life.
Over the course of several years, Dolores used her nursing expertise to treat and inoculate hundreds of children against infectious diseases during missions to Honduras through the Mujeres Amigas Miles Apart (MAMA) Project.  Dolores also performed extensive volunteer work on behalf of Heifer International, an organization which seeks to provide sustenance farmers throughout the world with farm animals so as to improve the financial and nutritional circumstances of their families.  She had a special place in her heart for those in the international community who needed a helping hand.
Dolores is survived by her beloved husband, Dr. William E. Schiesser, to whom she was married for 64 years.  She is also survived by son, William E. Schiesser, Jr., and his wife, Faye; son, Nathan B. Schiesser, Esq.; granddaughter, Madeline F. Schiesser, Esq.; grandson, Matthew E. Schiesser, and his wife, Maura; sister-in-law, Cheryl W. Tubio; and nieces and nephews, Sarah B. Tubio Earl, M. Domingo Tubio, Dr. Abigail T. Tubio, and Laura H. Varas.  Dolores loved animals and is also survived by her loyal canine companion "Lucky" who provided her with comfort and solace in her final days.
Dolores was pre-deceased by her infant sister, Rita Tubio; parents, Manuel Tubio and Hazel (née Ankrom) Tubio; older brother, Manuel Tubio, Jr.; and younger sister, Arlene T. Heiss.  She was the last surviving member of her birth family.  Dolores was also pre-deceased by her son, Daniel T. Schiesser; infant niece, Naomi C. Tubio; nephew, Frank C. Heiss, and members of her extended family, including her father-in-law, Edward V. Schiesser; mother-in-law, Laura V. Schiesser; sister-in-law, Dorothy Schiesser; and brother-in-law, John C. Heiss.
Arrangements were handled by the Herron Funeral Home in Bethlehem, Pennsylvania with services at the convenience of the family.  Dolores was laid to rest at the Friedensville Church Cemetery, beside her late son, Daniel.  In lieu of flowers, those wishing to make memorial contributions in memory of Dolores are encouraged to consider donations to Heifer International at https://www.heifer.org/.