Reverend Laurence Gregg Horn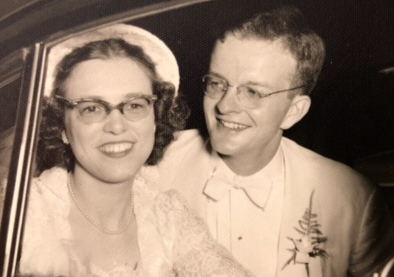 Reverend Laurence Gregg Horn, 94 of Allentown passed away on May 4, 2023 at Luther Crest in Allentown.  He was the husband of Fay M. (Knaake) Horn, they would have been married 72 years on September 1st.
Larry was born in Chestnut Hill, Philadelphia on July 23, 1928, son of the late Reverend Edward T. and Laura R. (Rossiter) Horn.  His parents were Lutheran missionaries sent to Japan where he spent his early years as a youngster.  Upon returning stateside, "Chippy" as he was affectionately known by immediate family, lived in Philadelphia, Pottstown, Mauch Chunk (Jim Thorpe), Canton, Ohio and Allentown.
He graduated from Muhlenberg College in 1949, the Lutheran Seminary of Philadelphia in 1952 and received his master's in psychology and counseling from Temple University.   Larry served in the U.S. Army as a Chaplain in the Reserves from 1958 to 1988 when he retired as a Colonel.
He ministered to Lutheran congregations for over 30 years in Abington, Reading, and Sellersville and for the next 16 years served as a United Church of Christ supply pastor.
Moving to Warrington in 1968, his career path changed upon accepting the position of Assistant Director of Bucks County Mental Health and Mental Retardation (MHMR) and then became Director of MHMR in Warren County, NJ.  He retired from READS (Remedial Education and Diagnostic Services) located in Levittown, a service that supplied non-public schools with remedial counseling and education.
Larry was a loving and devoted husband, father, and grandfather.  He was interested and involved in family activities and liked making improvements around the home, maintaining the garden, yard, and cars. During the high school years of his daughter and son, he was an active member and served as president of the Central Bucks West High School Band Parents Association.  He enjoyed the furry four-footed family members of dogs and cats that were a source of joy, amusement and happiness to him.
Quite the handyman, he enjoyed working with his hands, doing carpentry and being involved in projects using the woodworking and building skills he had acquired while working his way through college on a construction crew.   Clear skies, steady winds and smooth seas mean great sailing which he thoroughly enjoyed and seized every opportunity to skipper a sailboat no matter how large or small.  Family vacations to the New Jersey shore and a local lake made for good times, good sailing, crabbing, swimming and beach combing with family and friends.  Upon his retirement, he and Fay made several trips to explore the National Parks and historic monuments of the western United States.  At the age of 90, family members accompanied him on a trip to Charleston SC to visit places of significant historical family interest.
Following retirement, he and Fay moved to a retirement community in Macungie and have resided at Luther Crest in Allentown since 2007.  He was active in the Luther Crest community as a member of the chorus, participated on the Kayhart Arboretum committee and assisted in ministry to residents who were shut-in or infirm.
In 2014, he was recognized for 60 years of ordination at the United Church of Christ regional conference.
He was a member of Good Shepherd United Church of Christ in Alburtis.
Recently joined in heaven by his wife Fay, he is survived by daughter Martha (Martie) Hetherington wife of Glenn of Ringtown, PA, son David L. Horn husband of Susan (Schnabel) of Reston, VA, two grandchildren Michael D. Horn and Emily V. Horn, nieces, nephews and great nieces and nephews.  He was predeceased by four brothers and three sisters.
Funeral arrangements are provided by Sell-Herron Funeral Home, 1145 Lehigh Street, Allentown.  A private burial at Grandview Cemetery, Allentown will be held on September 11, 2023.
A Celebration of Life service for family and friends will be held at 2:30 pm on Monday, September 11, 2023 in Crest Hall at Luther Crest, 800 Hausman Road, Allentown with Pastor Faddy Lous and Pastor Laura Klick officiating.
In lieu of flowers, donations may be made to the Luther Crest Benevolent Fund or the Kayhart Arboretum Fund at Luther Crest 800 Hausman Road Allentown, PA  18104 or to the Good Shepherd Home at 850 S. 5th Street, Allentown, PA  18103.