Fay Marjorie (Knaake) Horn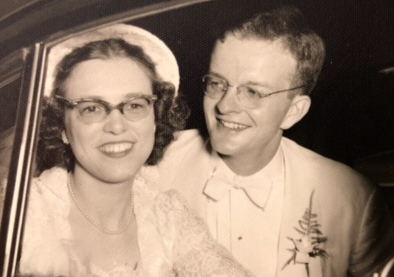 Fay Marjorie (Knaake) Horn, 96, of Allentown, passed away on August 30, 2023 at Luther Crest in Allentown.  She was the widow of Laurence G. Horn who passed away on May 4, 2023. They would have been married 72 years on September 1st.
Born September 15, 1926, at home in Nesquehoning, PA, she was the daughter of the late William H. and Victoria A. (Stahler) Knaake.
Fay grew up in Allentown after moving from Nesquehoning as a toddler. She graduated from Allen High School in 1942 and attended Kutztown College.
In addition to her parents, she was preceded in death by her husband, Laurence, and her sister Gloria C. (Knaake) Getz.  She is survived by daughter Martha (Martie) F. Hetherington wife of Glenn of Ringtown, PA, son David L. Horn husband of Susan(Schnabel) of Reston, VA, two grandchildren Michael D. Horn and Emily V. Horn, nieces, nephews and great nieces and nephews.
Fay held a variety of administrative assistant and office manager positions throughout her life. Beginning at Muhlenberg College, office of President Levering Tyson, where she met her husband Larry and then in the engineering department at PP&L downtown Allentown.  One of her favorite positions was with the Reading Railroad after moving to Philadelphia with her husband while he attended the Lutheran seminary.  As the wife of a pastor, she assisted with church functions and was a participant on many committees.  She continued to work part-time while raising a family, holding office manager positions at Bentley's Restaurant in Quakertown, with the Senior Citizens Center in Perkasie, the Comley Turf Farm in Furlong, and as a teacher's aide at Tamanend Jr. High School in Warrington.
Family was her focus.  She was devoted to the well-being of her family and lived her life committed to doing her best for her family's welfare.  Her love of family and friends was evident through her caring, compassionate, supportive, kind, affectionate, loving, and enthusiastic nature. She always stood by the people she loved and supported her family and friends unconditionally.  Fay took pleasure in creating a warm inviting home environment, welcoming and entertaining family and friends, hosting gatherings for holidays and family events.  She was a loving and devoted daughter, sister, mother, grandmother, cousin, aunt and friend.
 Spending quality time and having fun with the family on educational trips and family vacations was important to her.  Long Beach Island, New Jersey, was a favorite family vacation destination where she could enjoy some downtime savoring the smell of the ocean, the sound of the waves, catching up on some reading and doing some shopping.
She enjoyed sewing, making most of the children's clothing and took pride in creating dresses for special occasions.  She was very imaginative and crafty, demonstrating her artistic talents creating unique wreaths, mantel displays, flower arrangements and was fond of spending time tending to her delightful flower garden.
Fay was an avid reader and lifelong learner, taking adult education classes as well as a variety of courses on subjects that peaked her interests.  She enjoyed studying subjects of intrigue and the supernatural, those that cannot be easily explained, such as astrology, UFOs, clairvoyance and the paranormal.  She was fascinated by and collected rocks, minerals and gemstones and was knowledgeable about their physical, mystical and healing properties.  Fay also enjoyed studying ancient civilizations and the culture of the American Indians.
She was a member of Good Shepherd United Church of Christ in Alburtis.
Funeral arrangements are provided by Sell-Herron Funeral Home, 1145 Lehigh Street, Allentown.  A private burial at Grandview Cemetery, Allentown will be held on September 11, 2023.
A Celebration of Life service for family and friends will be held at 2:30 pm on Monday, September 11, 2023 in Crest Hall at Luther Crest, 800 Hausman Road, Allentown with Pastor Faddy Lous and Pastor Laura Klick officiating.
In lieu of flowers donations may be made to the Luther Crest Benevolent Fund or the Kayhart Arboretum Fund at Luther Crest 800 Hausman Road Allentown, PA  18104 or to the Good Shepherd Home at 850 S. 5th Street, Allentown, PA  18103.