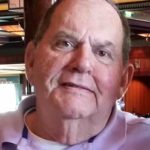 Donald A. Schoenen, 80 of Bethlehem passed away on October 24, 2021 at Lehigh Valley Hospital -Muhlenberg. He was the husband of Sharlene E. (Hock) Schoenen, they were married 53 years on March 16th.
Donald was born in Bethlehem on January 15, 1941, son of the late Walter and Catherine (Boyle) Schoenen.
He proudly served in the US Air Force from 1958 to 1962.
He was an analyst for the Bethlehem Steel Company retiring after 39 years and 5 months.
He was a faithful member of Notre Dame Catholic Church of Bethlehem.
Donald was a coach and manager for Northwest Little League for over 14 years, a coach for Bath-East Allen Soccer Club for over 6 years and with PALS for over 3 years.
Survivors: His wife Sharlene, their sons Robert D. Schoenen husband of Kathy of Shillington, David W. Schoenen husband of Dianna of Northampton and Kevin R. Schoenen husband of Melissa of Redmond, WA; grandsons Trevor, Samuel, Alexander and Jay Schoenen; sister Elizabeth Casella wife of William of Winchester, VA and a brother Walter Schoenen husband of Margaret of Bethlehem.
Calling and Funeral Mass: Saturday October 30, 2021, calling 9:15AM to 10:15 AM followed by the Funeral Mass at 10:30AM all at Notre Dame Catholic Church 1861 Catasauqua Road Bethlehem, PA 18017. Funeral arrangements are by the Herron Funeral Home, Bethlehem www.Herronfuneralhomes.com
Contributions: In his memory to the American Cancer Society