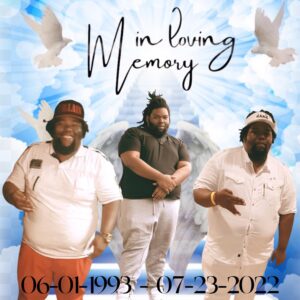 Donte Shariff Chapman was born in  Brooklyn, New York  on June 1st 1993 to the late Tara M. Chapman and Robert  Chapman. Donte was called home to be with his mother on July 23, 2022 in Allentown, PA.
Donte attended P.S.6, Walt Whitman Jr.  High, and AMP Alternative H.S. Donte loved being with his mother & siblings and watched over them. Donte loved family and loved going to family events.
Donte loved to come down to New York to go to the Masonic Temple to go dancing with his aunts and cousins. Donte hobbies were: playing basketball, listening to music, playing video games.
Donte most important thing in his life is Bella and he loved to spend time with her and she loved her daddy.  He will be truly missed.
Donte leaves behind: Father  Robert Chapman, Daughter : Kabella Chapman, Brothers: Isaiah Chapman, Kobe Edwards, Sisters: Ashanti  Edwards, Jennifer Chapman, Tatiana Chapman, Step-Parents: Keith Edwards and Rashida Williams, Paternal Grand Parents: Pennie Dickerson and Betty Chapman, Grand Uncle  Rickard Williams, Aunt Kim Williams who raised us with our mother and a host of Aunts, Uncles, nieces, nephews and host of cousins and family.
Viewing: Friday August 5, 2022 from 3PM to 4PM in the Sell-Herron Funeral Home 1145 Lehigh Street Allentown, PA  18103. www.Herronfuneralhomes.com