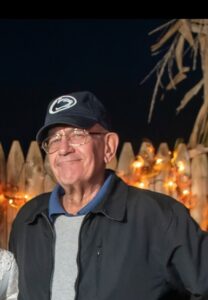 James A. Knecht, 63 of Allentown passed away on July 22, 2022.
Jimmy was born in Allentown on July 27, 1958, son of the late Robert L. and Evelyn (Kuhn) Knecht, Sr.
He was a driver for Matthews Casket Company for over 25 years.  Prior to that he was a roofer, black top installer and worked at his parent's market, Knecht's Market in Allentown.
He was an avid Penn State Football fan, loved Polka music, the Indianapolis 500, Kentucky Derby, horse racing, an avid hunter who loved the outdoors.  Jimmy enjoyed going to the cabin at Blue Heron Lake.
Survivors:  Although Jimmy never married and had no children he was like a father to John Schankowitz husband of Kristine  and  to Gene "Tommy" Kleppinger husband of Alina;  grandfather to John and Kristine's  daughters Julie, Naiya and Madelyn. He is also survived by  cousins and many dear friends.
Predeceased by his siblings  Robert and Sandra.
Life Celebration: A Celebration of Jimmy's Life will be on Saturday July 30, 2022 from 1PM to 2PM in the Sell-Herron Funeral Home 1145 Lehigh Street Allentown, PA  18103. www.Herronfuneralhome.com
Contributions:  Wildlands Conservancy South Mountain, www.wildlandspa.org/south-mountain-preserve  or
Matthew's Children's Foundation, www.matthewsaurora.com