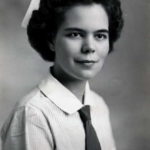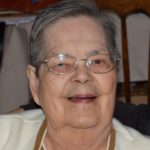 Doris L. Moser, 92, died peacefully at her home in The Courtyard at Fellowship Community, Whitehall, Pa., on January 31, 2017. Her husband of almost 55 years, Willis H. Moser, was at her side.
Born Doris Louise Case in Northampton, Pa., she was the daughter of the late Theodore R. Case and Florence (Gable) Case.
A graduate of Whitehall High School (class of 1942), she went on to receive an RN from The Allentown Hospital School of Nursing in 1946. Later she also earned an RT. She worked for 42 years at Allentown Hospital in the X-Ray Department.
In the summer of 1961 she took up bowling, where she met her future husband while playing in a league. They married in May 1962 and made their home in Allentown.
Always devoted to her parents, her sisters and brothers, and their families, at mid-life she also became a loving wife, and then mother to her only child, Jennifer Ann. She balanced her career with many family responsibilities, including caring for her widowed father.
A long-time member of Emmanuel U.C.C., she was active in the Sunday School, where she taught the Nursery class for many years. After her retirement in 1988, she volunteered with her church at the Allentown Area Ecumenical Food Bank, the Lehigh County Conference of Churches Soup Kitchen, and Emmanuel's "Kitchen Krew."
Doris always enjoyed travel, and in her single years often vacationed with friends and family, driving cross country. After Will's retirement in 1989, they traveled extensively, including Great Britain and Israel, as well as throughout the U.S. and Canada.
She was delighted to become a grandmother and was dedicated to her grandchildren, Nathaniel and Kathleen (long known as "Kacey," in honor of Doris, who was called "Casey" by many friends). She was ecstatic when she became a great-grandmother with the birth of Kathleen's son, Atticus Pihl, in 2014.
In 2001 Doris and Will moved to Fellowship Community, Whitehall, Pa., and eventually joined the Fellowship Community Church. Over the past year, she received excellent care from the compassionate staff of the memory support unit.
She was preceded in death by her parents, her sister, Kathryn, and brothers, Theodore and Gerald.
Survivors include: her loving husband Willis; daughter Jennifer and son-in-law Shawn, of Atlantic Highlands, NJ; grandson Nathaniel Blythe and his wife, Hani Johari Blythe of St. Petersburg, FL; granddaughter Kathleen Blythe Pihl, her husband Jordan Pihl, and great-grandson Atticus of North Grosvenordale, CT; one sister, Phyllis Balliet (and Paul) of Northampton; sisters-in-law Audrey Moser of Northampton, LaRue Case of Huntingdon Valley, and Dolores Case of North Catasauqua; many nieces and nephews, and their families.
Services are planned for Monday, February 6, at Fellowship Community's Zentz Hall. Calling hours are from 9:30-11a.m., and the service will be held at 11 a.m.
Donations to the Fellowship Community Scholarship Fund, or flowers for the service, are welcome.