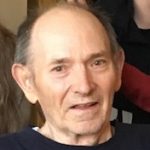 Wayne Kenneth Hollabaugh, 75 of Bethlehem died on January 29, 2017. He was the husband of Linda J. (King) Hollabaugh, they were married 53 years on December 7th.
Wayne was born in Danville, PA on November 3, 1941 son of the late Robert E. and Marjorie (Guffey) Hollabaugh Latsch.
He worked in production at Lehigh Valley Dairy for 32 years.
He was a member of Salem Lutheran Church in Bethlehem where he chaired the Christian Education Committee. He was a peanut maker at Bethany UUC peanut group. Wayne was a member of the Allentown MORA Club, was Man of the Year in 2009 and was a volunteer chairman. He also volunteered for the Association for the Blind and Visually Impaired, Allentown YMCA of Allentown, Lehigh County Council of Churches, Wildland's Conservancy and was a supporting member of The Compassionate Friends of the Lehigh Valley.
Survivors: His wife Linda, sisters Sandye Kneller, wife of Larry and Joyce Hollabaugh; brothers Charles "Bud" Latsch and Dale Hollabaugh, husband of Kim; nieces and nephews.
Predeceased by a son Richard Lee Hollabaugh on April 10, 1995. Predeceased by brother Michael S. Hollabaugh and his wife Patricia.
Service: Funeral Service on Saturday February 4, 2017 at 10AM in Salem Lutheran Church 527 High Street Bethlehem, viewing from 9AM to 10AM in the Church. Burial in Bethlehem Memorial Park Cemetery. Funeral arrangements are by the John F. Herron Funeral Home in Bethlehem.
Contributions: In lieu of flowers to the Richard Lee Hollabaugh '88 Scholarship Fund c/o the Herron Funeral Home 458 Center Street Bethlehem, PA 18018.